Windsurfing is a thrilling activity that anyone can pursue, regardless of their age or sex.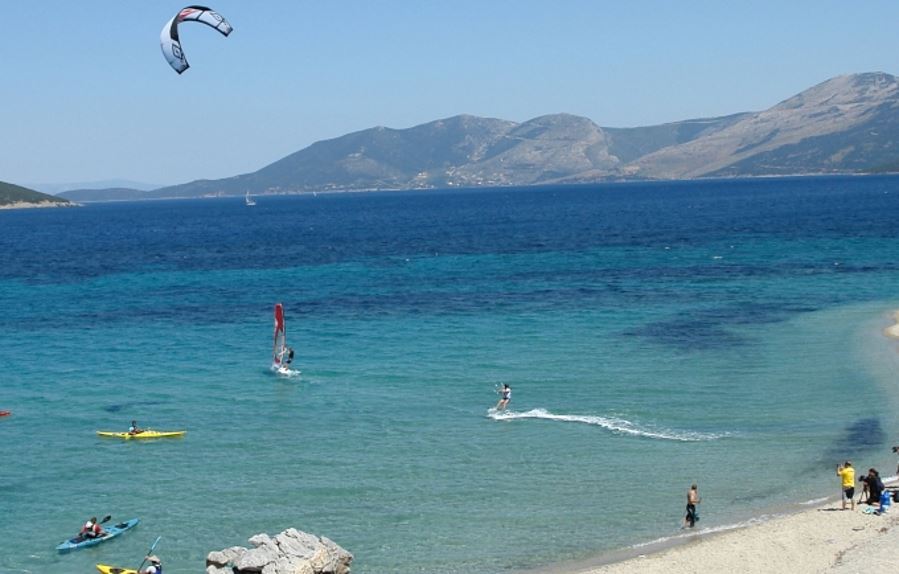 A few hours in the water are enough to initiate you into the basics, how to stand upright and how to turn. The main requirement is that you know how to swim.
The Cavodoro Straits (east coast of Karystia) are often subject to strong and lasting north winds and windsurfing in the more enclosed bays can be very exciting. This is the case for the north-facing coastline of Karystia. One should be very cautious, though, as the intensity of the winds leaves you exposed to the very strong waves of the Aegean.
Two safer spots that we suggest are:
1. The south-west side of the bay of Karystos. Here the wind becomes stronger gradually as you go further away from the north side of the coast and heading south-west. Here the coastline forms an open, extended little bay with low waves and moderate wind which blows towards the shore and not the open sea. Access to this point is easy by car.
2. The eastern coastline of Karystia, in the South Evoikos Gulf and more specifically in the straits between Evia and the "Petalioi" islands. Here is one of the most interesting beaches of Marmari, the beach of "Chrisi Ammos", which windsurfers can use as their base of operations. The general morphology of the area is such that allows the surfers plenty of open waters with many shores nearby to stop them from drifting out into the open sea.
You can find more information on water sports in the Karystion Hotel.